It's already November 2023! December 1st and advent time is creeping closer, not long to go, so get stocked up and find out where to buy the 2023 Where's Wally Chocolate Advent Calendar before they all sell out like last year! tl:dr: Best value is to get it from M&S/Ocado if you can.
The following image is what the official M&S 2023 chocolate advent calendar should look like, some outlets are still selling previous years, which is fine, we have the answers for those too : )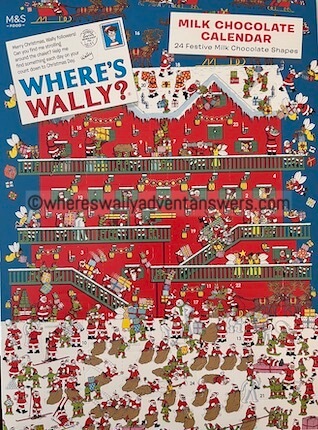 Marks & Spencer / Ocado
The 2023 Where's Wally Advent Calendar is of course still being sold in Marks & Spencer stores so if you can get to one of them you will likely find one – you could try calling beforehand to double check stock. The online options to buy the M&S version of the calendar aren't as limited as last year. Marks & Spencer still use Ocado as their only online delivery outlet, they do have the 2023 Where's Wally Advent Calendar available here. Don't be worried about the image they are currently using, they will send you the 2023 version, which is the santa house theme and not last years themed one that the image shows. Unfortunately there is a minimum spend for delivery, but there are currently, at time of writing, many available slots.
Other online outlets
Amazon & BritishCornerShop
You can now find the 2023 Where's Wally Advent Calendar to buy here on Amazon (although it's completely overpriced so only buy here if you're desperate and can't find it anywhere else!) and also
here at the Britishcornershop . Both are more overpriced than buying directly from M&S.
Ebay
You'll see many options to buy this years Where's Wally chocolate advent calendar, but usually at a very inflated price. It's up to you to choose which seller you are happy to go with. But do please be careful and double check with them you are getting this years calendar.
Unwanted gifts can also pop up on Gumtree or Shpock but just be careful who you meet and before parting with your money.
Alternatives
If you aren't to fussed about the chocolate, there are another two more alternative Where's Wally advent calendars for sale this year, the Christmas tree shaped 3D version that you can also use as a decoration, and the standard flat box, but chocolate-less.
With both of these options, you don't need to find what's behind the door each day, you just find Wally one time among the santas on the box/tree. – So arguably not as fun as the M&S version, and, well, no chocolate, soooo. But they are more readily available online from stores such as John Lewis, Calendar Club, Amazon, and others.
Have you found any other Where's Wally Advent Calendars? Where did you manage to buy yours? Please let us know in the comments? Perhaps we can start a community for those that can't seem to find one in their area?